Confined Spaces Safety
Log in
Confined Spaces Safety

General Course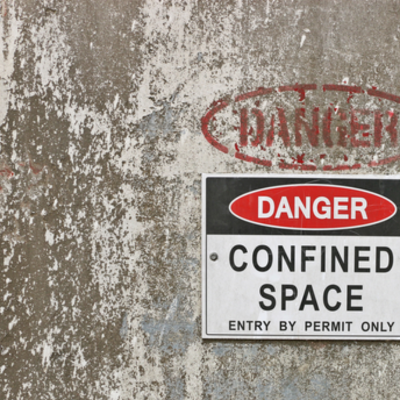 $50

Online course available

Start instantly and learn at your own pace.

Course completion certificate

Available for download when you complete the course.

.1 CEUs

Continuing education units awarded upon completion.

Approximately 0.75 hours

Course can be completed in about 0.75 hours.

Unlimited access

View this course wherever and whenever you like.
Course Description
Many workplaces contain areas that are considered "confined spaces" because while they are not necessarily designed for people, they are large enough for workers to enter and perform certain jobs. A confined space also has limited or restricted means for entry or exit and is not designed for continuous occupancy. Confined spaces include, but are not limited to, tanks, vessels, silos, storage bins, hoppers, vaults, pits, manholes, tunnels, equipment housings, ductwork, pipelines, etc.
OSHA uses the term "permit-required confined space" (permit space) to describe a confined space that has one or more of the following characteristics: contains or has the potential to contain a hazardous atmosphere; contains material that has the potential to engulf an entrant; has walls that converge inward or floors that slope downward and taper into a smaller area which could trap or asphyxiate an entrant; or contains any other recognized safety or health hazard, such as unguarded machinery, exposed live wires, or heat stress.
This course will focus on typical confined spaces in the amusement industry and offer guidance on identifying spaces that are considered "permit required" by OSHA. Participants will also learn what is required for a workplace program for safe confined space entry.